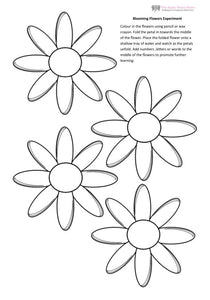 Use these flower templates to complete your own blooming flowers experiment. 


simply colour the flowers in pencils or wax crayons.
If you want to extend the learning you could add numbers, letters of words to the center of the flower to be revealed at the end.
fold the petals of the flower in towards the middle
place in a shallow tray of water and watch as the flower unfolds on its own revealing whatever is in the middle or the colours of the flowers.  


this is a downloadable product